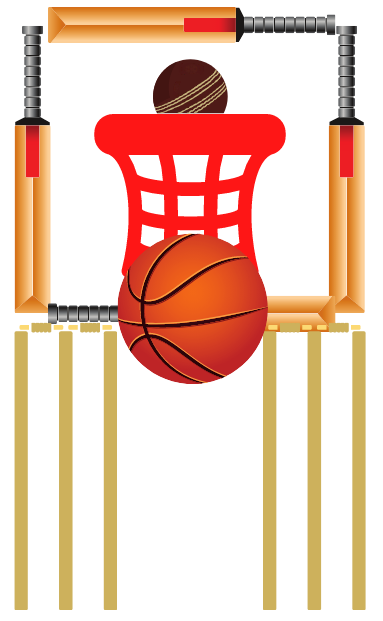 Mumbai Indians (MI)- Los Angeles Lakers (LAL)
The defending champions. They play at the Wankhede Stadium. One of the more iconic and atmospheric stadiums in the IPL. Mumbai- The land of Bollywood. LA- The land of Hollywood. Both sides are star studded and have an incredibly successful history. Mumbai Indians are in fact the most successful side in the IPL, having won 4 titles (2013, 2015, 2017, and 2019). The sides have another thing in common, not only do they both have a rich and winning history, some of their respective sports greatest ever players have played for them. Kobe, Shaq, Wilt and now LeBron don the famous Purple and Gold. Similarly, the very best of Cricket have donned the Blue and Gold of Mumbai. The likes of Sachin Tendulkar, Lasith Malinga, Ricky Ponting, Sanath Jayasurya and now they've got the stars of present-day Cricket in skipper Rohit Sharma, Bumrah, the Pandya brothers and the staple in the MI side, Trinidadian Keiron Pollard. They will be looking to become only the second side in the IPL to successfully defend their title in 2020.
Rivals: Chennai Super Kings-CSK (Basically the Lakers-Celtics of the IPL). Delhi Capitals-DC (Derby between the two biggest cities of India. Like an NYC vs LA game). Rajasthan Royals-RR (Intense games in the past)
Chennai Super Kings (CSK)- Boston Celtics (BOS)
The 2019 finalists, and the second most successful side in the IPL. They won in 2010, 2011 and 2018. They have made it to the final a staggering 8 times! That's 8 out of a possible 12 times. Their lowest position and worst performances resulted in them finishing in 3rd place in 2009 and 2014. CSK in the IPL is a synonym for consistency. CSK play at the M. A. Chidambaram Stadium, or Chepauk as it is known. The sea of yellow with the stands filled with the Whistle Podu army is quite a sight to behold. Just like the Celtics, the Super Kings expect nothing but the title. Success, and continued success is what both teams strive for. The Celtics are often praised for their ability to do things in a calm and cool manner. Not going about things with a ton of fanfare and gala. Chennai are very much built in the same mould. From the ownership, to the coach, to the captain- MS Dhoni, calmness, experience and a great attitude is for all to see. This is why they're so successful. Because after a certain point, they just figured out a way to be successful. They knew how to win. The 2018 side was dubbed "The Dad's Army" owing to the aging CSK squad. Nobody gave them a chance. But just like with Boston, Chennai had one thing that you only have if you're successful for a long period of time- experience and know-how. When the going got tough, CSK just knew exactly what needed to be done, to get over the hump. With news of MS Dhoni's and Suresh Raina's (one of CSK's greatest ever players) international retirements, they're going to go all in on the IPL and be a force to be reckoned with once again in 2020.
Rivals: Mumbai Indians-MI (Basically the Lakers-Celtics of the IPL). Royal Challengers Bangalore-RCB (South Indian derby- Chennai vs Bangalore. Dhoni vs Kohli aka Old head skipper vs Current skipper aka LeBron James vs Luka Doncic). SunRisers Hyderabad-SRH (South Indian derby).
Kolkata Knight Riders (KKR)- Houston Rockets (HOU)
Winners in 2012 and 2014. Barring last season, where they just missed the playoffs, KKR have made it to the final 4 for 3 consecutive years (2016, 2017, and 2018). Last year was a transitional year and the side looks raring to go for the 2020 season. KKR play at the Eden Gardens. A truly global and iconic venue in the sport of Cricket. The Knight Riders, interestingly enough don the Purple and Gold, just like the Lakers. Although that's about where the comparisons end. The Houston Rockets and the Kolkata Knight Riders can in certain place come across as the spitting image of the other. They're both based in cities of rich culture and heritage. They both won under their most magnetic and mercurial personalities, and leaders- Hakeem with Houston and Gautam Gambhir with Kolkata. They've both got ownership who are big time and keep a close eye on things (Timlan Fertitta and Shah Rukh Khan). And, in recent years, both of them have brilliant players on their squads who are primed and ready to win, only to fall short and come up against truly great teams. Both presently are heavily dependent on their star player to essentially carry them to wins. The players are the system, in James Harden for Houston, and Andre Russell from Jamaica for Kolkata. After a disappointing season last year, they have strengthened their squad, with the most notable addition being Australian spearhead Pat Cummins. And, they look hungry once again, to give it another go in 2020.
Rivals: SunRisers Hyderabad-SRH (Many a playoff battle in the past). Kings XI Punjab- KXIP (Intense games in the past. Both have had ex players perform well against each other). Royal Challenger Bangalore-RCB (Intense games in the past. Both have had ex-players perform well against each other).
SunRisers Hyderabad (SRH)- San Antonio Spurs (SAS)
The SunRisers Hyderabad (formerly Deccan Chargers 2008-2012) are one of the most consistent sides in the IPL. Only one of two IPL sides to have a non-Indian player as captain with Australian David Warner, who led the side to the 2016 title (the other being Steve Smith for Rajasthan Royals). They have won the title in 2009 (as Deccan Chargers) and in 2016 (as SunRisers). They've been finalists in 2018 and have been in the final 4 in 2010, 2013, 2017, and 2019. SRH play at the Rajiv Gandhi International Cricket Stadium, in Hyderabad. The boisterous Orange Army always turn up, and a stadium full of orange flags and twinkling lights (from the flashlights of the mobile phones of the fans in attendance) makes for a terrific atmosphere. Just like the Spurs, the biggest asset of the SunRisers is their terrific coaching staff, the brilliant work culture and the emphasis on good leadership leading to great results. The Spurs, the Patriots and the SunRisers have all found success on the back of brilliant leadership, rather than just pure talent. And just like the Spurs, SRH have never defended their title, but are always a legitimate threat. They're both dynasties in their own right. Coach Pop always puts tactics and defense on top. It's what wins you championships. SRH were the same under Darren Lehman (Deccan Chargers) and Tom Moody (SunRisers). Tactical astuteness and great defense (in this case, SRH are generally considered to have the best bowling attack in the IPL year after year. No total is too little to defend). For the 2020 season, SRH have made a significant change. The ownership had decided that the team had come the furthest it could under Moody, and a fresh face was required. They went and hired the hottest ticket in town, by getting 2019 England World Cup winning coach- Trevor Bayliss. It was under Bayliss that KKR had won their two IPL titles. This appointment is a clear statement of intent by the SRH ownership that the team has to now go from consistent final 4 performances, to consistently winning the title and making final appearances. A new era beckons for the Orange Army in 2020.
Rivals: Chennai Super Kings-CSK (South Indian derby). Royal Challengers Bangalore-RCB (South Indian derby). Kolkata Knight Riders-KKR (Many a playoff battle in the past)
Rajasthan Royals (RR)- New York Knicks (NYK)
The Royals were the first ever winners of the IPL, way back in 2008. Led by the great Shane Warne, that side was known for their grit and toughness. You never had an easy game, and you knew there were going to be some bumps and bruises in a battle against the Royals. Rajasthan Royals play at the Sawai Mansingh Stadium. The land of the Kings. Unfortunately, after the high of the 2008 triumph, the Royals have gone from sitting at the throne, to just being a spectator, as they've watched team after team win and wear the crown. One they thought was theirs. Just like how Ewing was the talisman for the Knicks, Warne was the undoubted X-factor for the Royals. But once their era had gone by, it was just never the same. RR have struggled massively post 2008. They did get 3rd place in 2013 (coincidentally, the very year the Knicks made their last playoffs appearance), but they usually find themselves near the bottom of the table. They barely made the playoffs in 2015 and again in 2018, but just never looked like getting anywhere. They finished 7th out of 8 teams last year. Things are looking promising for the years to come, however. The Royals have steadily and gradually been working to put together a solid (with potential to become formidable) side. A very English core with Jofra Archer, Ben Stokes and Jos Buttler, and being led by Australian stalwart Steve Smith. Things look to be coming together nicely for the Royals, but it's yet to be seen whether all this talent translates to success in terms of being legitimate contenders for the title.
Rival: Mumbai Indians-MI (Intense games in the past)
Royal Challengers Bangalore (RCB)- Brooklyn Nets (BKN)
RCB are an enigma. The best of the best have played for them. They play at the M. Chinnaswamy Stadium, arguably the best atmosphere in the IPL. They're both based in cultural and sports centered cities. They have had some of the sports very best batsmen in a format that could not favour the batsmen more. Yet the IPL title has remained elusive. The most obvious comparison between the Nets and RCB are who they are led by. Kevin Durant and Kyrie for Brooklyn and Virat Kohli and AB De Villiers for RCB. Nobody questions the ability, skill and talent that these great players possess. Nobody questions their track record too. But questions do pop up now to see whether they can win. Yeah, they have won before, but that was under other great leadership- KD with Steph, Klay, Draymond and Kerr at Golden State, and Kyrie with LeBron in Cleveland. Similarly, AB De Villiers back home in South Africa, and Virat Kohli for India under MS Dhoni. RCB have come close on a few occasions. Runners-up in 2009 against Deccan Chargers (now SunRisers Hyderabad), runners-up in 2011 against Chennai Super Kings, and runners-up in 2016 against SunRisers Hyderabad. They also finished 3rd place in 2010 and in 2015. But the rest of the campaigns have been quite underwhelming, to say the least (they have finished bottom or near the bottom the past 3 seasons). There is no way a side with this much star power should still be looking to find that final piece of the puzzle, when those around are already looking to take the next step of not just winning, but repeatedly winning. As is the case at the start of every season, there are a lot of mixed emotions going into this season too. They've still got an immensely talented squad, a new coaching staff, a new position in the Director of Cricket Operations and the mercurial duo of Kohli and De Villiers. But it's to be seen whether they will finally convert all of this into silverware at the end of the season.
Rivals: Rivals: Chennai Super Kings-CSK ( South Indian derby- Chennai vs Bangalore. Dhoni vs Kohli aka Old head skipper vs Current skipper aka LeBron James vs Luka Doncic). SunRisers Hyderabad-SRH (South Indian derby). Kolkata Knight Riders-KKR (Intense games in the past. Both have had ex-players perform well against each other).
Kings XI Punjab (KXIP)- Phoenix Suns (PHX)
KXIP play at the very scenic IS Bindra Stadium. KXIP are usually one of the league's more entertaining sides to watch. High octane Cricket, flashy moves, flamboyant players make for great sporting entertainment. But it hasn't resulted in an IPL title. Just like the iconic Suns' 7 seconds or less offense, KXIP had an ultra-aggressive system and approach at one point, with every batsman sent out to the middle having just one goal- hit the ball as far as you can, as often as you can. Throughout the IPL's history, KXIP have been blessed with some wonderfully gifted players (*cough* Nash-Suns *cough*) both, at different times in their history, and together as a collection of top talent. But their good periods always seemed to come when some of the other sides had their greatest teams assembled. KXIP would blitz teams at the start of each campaign, only to then fizzle out towards the business end of the tournament. Their best finishes are in 2008 (3rd place) and as runners-up in 2014. Even in those two seasons, they absolutely stormed into the playoffs and played some of the most exciting and "gets your heart racing" form of Cricket we've ever seen. But when push comes to shove, the team that plays calm, collected and a winning brand of Cricket ultimately triumphed over a brand of Cricket that was exhilarating to watch, but wasn't a winning one. For the 2020 season, their golden boy Glen Maxwell from Australia has returned, rising star and skipper KL Rahul and, the "Universe Boss" Chris Gayle from Jamaica who looks to continue from where they left off the past couple of seasons. It looks to be an exciting season for them in 2020.
Rivals: Delhi Capitals-DC (North Indian derby). Kolkata Knight Riders-KKR (Intense games in the past. Both have had ex-players perform well against each other)
Delhi Capitals (DC)- Washington Wizards (WAS)
Delhi play at the Feroz Shah Kotla Ground. Delhi Capitals (formerly Delhi Daredevils) and Washington Wizards, both representing the capitals of their respective countries. Both, perennial underachievers. Both have got young, exciting squads. But at the end of the day, you know that they're not really a threat. Delhi had a promising start to their IPL journey. In the first 5 years of the tournament, they finished 3rd a couple of times (2009 and 2012) and 4th once (2008). But from 2013 to 2018, Delhi being at or near the bottom of the table wasn't even worth betting on. They went from having a squad comprising of some of the World's very best (AB De Villiers, Vettori, Dilshan, Gambhir, Sehwag, Kevin Pieterson and so many more) on their squad in the first 5 years, to becoming bottom feeders till 2018. Had they shown a little more patience with that initial group of players, they very well might have won a title. It's no secret that the DC ownership and patience do not go together. That resulted in year after year of getting new players and coaches, not giving them enough time, and then starting over again. This was a big reason for them having extremely poor seasons year after year. They kept spending big on big names. Delhi were the perfect example of a team being more than the sum of its parts. It looked like the downward spiral would just never end. Until 2018 that is. Something happened. The ownership had decided to go easy on the hire and fire policy of theirs. They brought in Australian legend Ricky Ponting as the head coach. Shreyas Iyer, the young Indian, had taken over the captaincy duties. And the two of them set about building a side that best reflected both of them, and the city of Delhi. A young and aggressive side that just wasn't willing to back down. A very Aussie and Delhi "over my dead body" attitude was being instilled in the team. The team finished bottom of the table that year in 2018. But everybody could see that DC were just a couple of adjustments away from rubbing shoulders with the big boys. Even in that season where they finished bottom, they never really got taken apart by opposition, and they had a few wins of their own. The most notable being their win over CSK in a pretty comprehensive manner. The youth and aggression filled side of Delhi was just finding its feet. And in the very next season (last season-2019), they finished in an impressive 3rd place. They have rather quickly become one of the more exciting sides to watch. The question now is, whether they are able to get in a sense of calm and know-how into their game, or will they be another young, exciting, sometimes threatening side who, in the moments it really counts are unable to step up. A question whose answer we shall hopefully learn a little more about in the upcoming 2020 season.
Rivals: Mumbai Indians-MI (derby between the two biggest cities of India. Like an NYC vs LA game). Kings XI Punjab-KXIP (North Indian derby).